Cultures And Customs
Bac Ha Market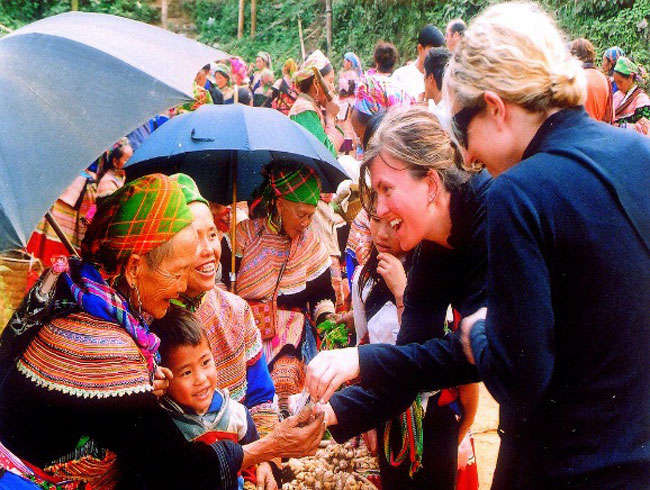 Bac Ha Market is one of the biggest and most well know in all of North Vietnam.
The energy and colour of the Flower Hmong People give the area a unique vibrancy.  Bac Ha Town is a three hour drive from Sapa and the market occurs every Sunday.  The best way to see the market in all its glory is to arrive early and leave before the crowds of tourists arrive on the buses between 10am and 11am. This either means a 5am start from Sapa, or an overnight stay in Bac Ha on Saturday night. By doing so, not only will you avoid the tourists, but you will also see the market in full swing.
Bac Ha Market is at its finest very early as the local minority tribes bring their livestock, wares and rice wine to sell each week. Although there are things to buy in the form of handicrafts and souvenirs, the best quality products can be found in Sapa.  Bac Ha Market is not really a place for shopping, but is a great location to visit if you are happy to people watch and take in the energy and vibrancy of the occasion.
Many different ethnic groups such as Flower Hmong, Phu La, Black Dao, Tay and Nung minorities gather to buy and sell local products that cannot be found elsewhere. This makes the market a portrait photographers dream. Indeed most locals paid little attention to you, rather choosing to focus on their business and the short Sunday-sized window of opportunity.
One of Bac Ha's main industries is the manufacture of alcoholic home brews (rice wine, cassava wine and corn liquor). The corn hooch produced by the Flower H'mong is so potent it can ignite! Bac Ha is the only place in Vietnam where you'll find this particular moonshine; there's an entire area devoted to it at the Sunday market. Swill some down before deciding whether to buy a buffalo or cow.
Bac Ha market
Nestled in the northern hills of Vietnam exists one of the best ethnic markets in all of Southeast Asia! On Sundays, the ethnic minorities from the surrounding villages and hills come by foot, by motorscooter, by horse, and by water buffalow for their chance to socialize, eat, drink, smoke, get a haircut, and buy produce and meat for the next week. It is a blur of colorful plaids and stripes.
It's a 3 hour harrowing ride from Sapa, but once you arrive there in one piece, it's a true experience of local culture. On any Sunday you can catch/hire a minivan from Sapa to drive you through some of the most stunning countryside that Vietnam has to offer. Rice terraces that look as if you drove into a postcard and then you start climbing up high into the hills on little one lane roads holding your breath around every corner.
This is not a market for tourists, in fact they hardly even notice that you are there. Sure, people do try to sell you things, but it's low pressure and really secondary to them as the market is not abut souveniers. Come with a tough stomach as you will see a bit of everything in the market – and if you are brave you can taste anything too which I highly recommend – followed by a stiff shot of homemade rice whiskey that is sure to kill any bacteria that you take in. Each section is more interesting and photographic than the next – including the live dog and pig market – and no they aren't selling them as pets.
Source trekkingsapa