Food Discovery
Top 10 foods that makes you fall in love with Ha Noi at the first bite
Cuisine is one of the most delightful things that draws a large number of people coming to Hanoi every year.
Exploring a unique food background of one of the biggest cities in Viet nam is always an indispensable treat for most tourists. This Top 10 Must try food in Hanoi will give you an overview of What to eat in Ha Noi.
1. Phở (Beef Noodle Soup)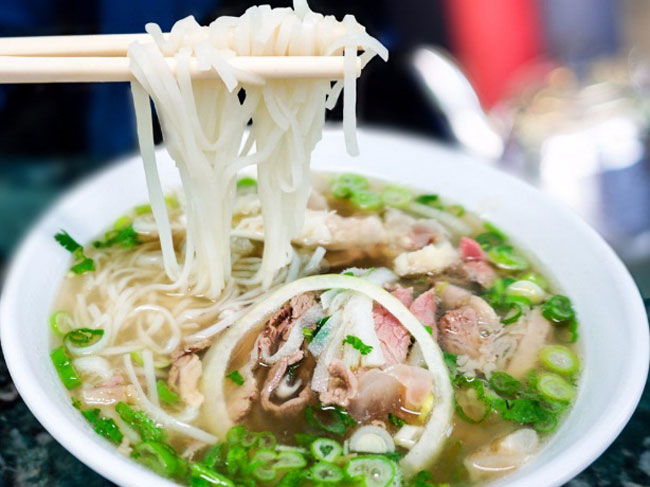 Phở has been cooked for decades and it's not only an emblem of Hanoi but also of Vietnam. People are charmed by sweet and pure taste of its sauce together with some tender pieces of beef or chicken. The strings of rice noodle which is totally handmade also brighten the unique of this dish.
Classic pho has four ingredients: clear stock, quickly boiled beef, rice noodles and herbs or green onions. While every shop has its own secret recipe, few tinker with the rest of the preparation.
Travelers can also try Pho at small shops along the streets. Just go down streets in the morning and look for a place that you see a crowded of local people gathering around having Pho as their breakfast. Phở is truly an amazing breakfast treat that will not break your bank.
2. Bánh Cuốn (Vietnamese Steam Rice Rolls)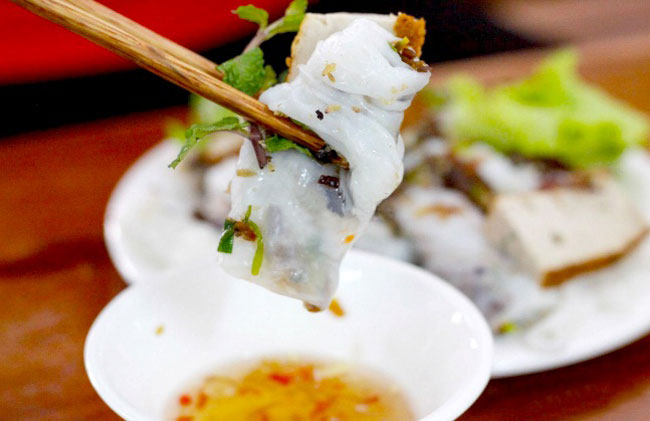 Another famous and delicious breakfast in Hanoi is steamed rice roll. Steamed rice roll looks like a stuffed pancake or a crepe but it's not sweet. It's made from rice paper combined with minced pork and chopped mushroom. Cooks also put some pieces of Vietnamese ham and pork cotton on top. Steamed rice roll is no salted at first that why this dish is served together with a small bowl of fish sauce mixed some chopped garlic, red hot pepper and slices of unripe papaya. All of these ingredients and secret family recipe make steamed rice roll's become a real star in Ha Noi's foods.
3. Bún Chả (Grilled pork & noodle)
Decades ago, Kebab rice noodles was mainly sold by street vendors but nowadays it becomes a characteristic of Ha noi. Though kebab rice noodles is a kind of noodles dishes, it's much different from Pho. It is a perfect combination of sour, salty, sweet and hot taste that people feel hard to put down their chopsticks at first try. There are only 3 main ingredients in a bowl of kebab rice noodle as grilled pork, vermicelli and sauce. Simple ingredients, unreal flavor.
4. Bún Ốc (Snail rice noodles)
Hanoians usually eat bun oc for breakfast or lunch, particularly in winter. When it gets cold, it is hard to imagine anything more delightful than slurping down a bowl of steaming hot and spicy soup with the chewy but tasty snail in it. This dish has a singular sour taste from thickened vinegar and charming crispness of very well processed snail (so don't worry about getting a sore stomach). Bun oc is accompanied by a variety of fresh vegetables and herbs like lettuce, coriander, perilla, knotweed, and basil.
Though it has boiled snail as its main ingredient, you can still feel the elegance when eat Bún ốc with fired tofu, scalded tomato and raw vegetable. Because this is a popular dish of local residents, it is sold everywhere on the streets and restaurants at only 20,000-30,000 VND for a portion.
5. Chả Cá Lã Vọng (Turmeric Grilled Fish)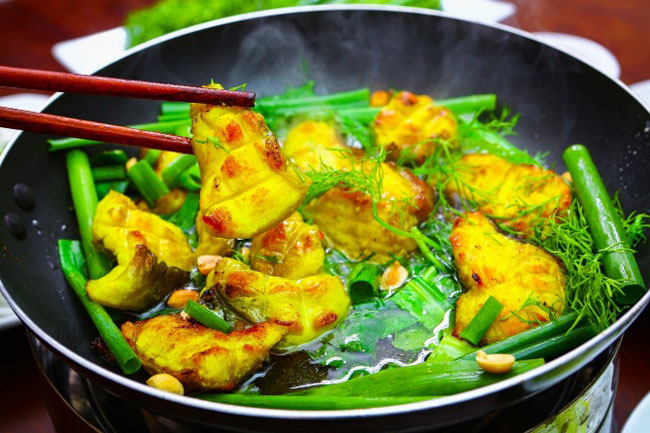 La Vong grilled fish is a highlight of Hanoi's specialties. Its recipe has been handed down from generation to the other by Doan family for over 70 years. This popular dish has been existed for so long that the street that the house located at was named after it. La Vong grilled fish is made from a special kind of fish names hemibagrus (Vietnamese call it "cá Lăng"). People grill hemibagrus' meat with oil and dill, then they serve grilled fish with vermicelli and shrimp paste. This simple and scrumptious food attracts numerous of local people, domestic and foreign tourists as well. You will have the best taste of this dish at La Vong street.
A dish of Cha Ca La Vong usually costs 120,000 VND/ person (Not included drink). The fish was tender and loaded with turmeric. The rice vermicelli is smooth and slippery and a great base to carry the nutty turmeric-laden oil with sweet and sour fish sauce.
6. Bánh Tôm (Shrimp in batter)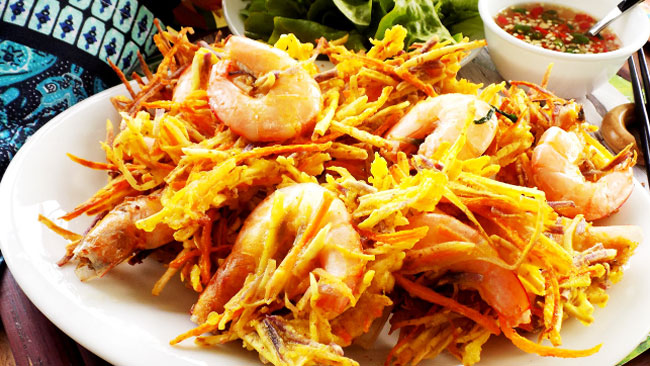 Eating shrimp in batter or shrimp fried pancake is a perfect thing at decline of a day. This is a kind of rice flour pancake with shrimp filling. The food is dipped in a sweet and sour fish sauce, some papaya and carrot slices. For the very first bite, Bánh tôm just melts in your mouth.
7. Hot egg coffee
Hot egg coffee is an appealing drink to those looking for something different that not often advertised as other foods in Viet Nam. It is just originally a Vietnamese Cappucino but what sets it apart is the yolk cream.
This coffee is normally served in a small and short cup. Sipping a cup of hog egg coffee in a tiny, casual vendor is truly a local experience that you shouldn't miss.
8. Bia Hơi Hà Nội (Ha Noi fresh beer)
Bia Hoi Ha Noi is a classic Vietnamese beer garden, perfect for a late sunny afternoon. Bia hoi is a special type of homemade beer, unpreserved, brewed daily and delivered in kegs to local businesses. Unlike canned or bottled beer, bia hoi should be consumed the day after it leaves the factory. It's brand-less and very cheap compared to Western-style beers.
9. Bún Thang (Vermicelli Soup with Chicken, Egg, Pork)
Bun Thang means vermicelli soup in Vietnamese. The name of the dish, bún thang, is comprised of 'bun' and 'thang'. 'Bun' means noodles while 'thang' is translated literally as pack of medicine. Bún thang got its name as it is made of a lot of ingredients, a bit like a pack of thuoc bac.
The most important part of this food is to keep the broth as pure as possible with full of sustenances. Fertimented shrimps and hard-cooked broth create an insane taste for Bún thang.
10. Xôi Xéo (Sticky rice)
Xôi Xéo is sticky rice topped with ground de-hulled mung bean and fried onion. Sometimes it can be served with eggs or steamed chicken breast on request. A warmly large portion of "Xôi Xéo", wrapped in banana leaf and old newspaper. A pack of Xoi xeo without chicken at about 15,000 – 20,000 keeps one full until late noon. Have it with a glass of soy milk and you have more energy than a box of granola bars!
Your trip to Ha Noi will be full of joy and satisfaction if you take time to enjoy all of these above suggested specialties. Pack your stuff and go ahead and take this list with you.
Source Justgola