Ly Quoc Su Pagoda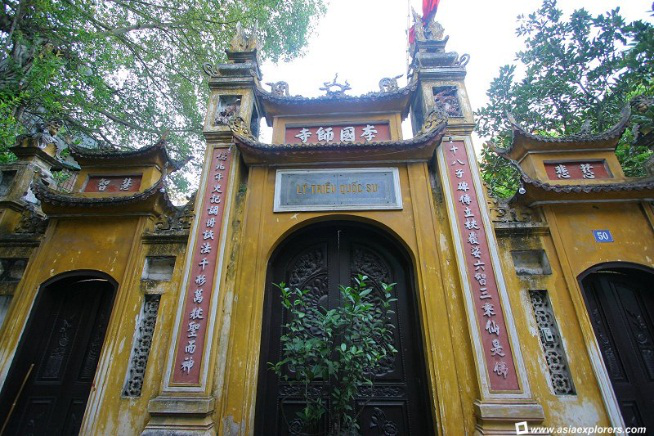 Each of the spring, Hanoians often come to Ly Quoc Su Pagoda to wish for happiness and prosperity.
Visitors go to the pagoda not only for worshipping but also for understanding the cultural and historical value of the pagoda.
Ly Quoc Su Pagoda is at 50 Ly Quoc Su Street, Hoan Kiem District, Hanoi. The Pagoda worships a Buddhist Monk of the Ly Dynasty (the 10th – 12th centuries). This Monk, whose full name was Nguyen Chi Thanh, was born on 1066 in Dien Xa Village, Gia Vien District in Ninh Binh Province in the reign of King Ly Thanh Tong.
In 1077, at the age of 11, Nguyen Chi Thanh began practicing for the Buddhist monkhood and was taught by Tu Dao Hanh, a well-known monk. As the legend says, Monk Tu Dao Hanh was erudite in Buddhism and excellent in healing. He admired and respected Nguyen Chi Thanh's talent and virtue. In 1138, in his seventies, Monk Nguyen Chi Thanh cured King Ly Than Tong of a disease that many famous doctors had failed to do. For his respectful virtue and talent, he was given the title Ly Quoc Su by the King, which meant Great Monk and Merit Teacher of the nation.
The King provided Ly Quoc Su with a serene residential quarter, which was situated next to Bao Thien Pagoda in the centre of Thang Long Capital, on a side of Luc Thuy Lake (Hoan Kiem Lake of today). This pagoda had a 12-storey tower. Apart from preaching Buddhist sutra for the monks and nuns, Ly Quoc Su taught medicine, prescription of medicines and demotic scripts to many people in the temple and surrounding areas. Skilled in bronze casting, Ly Quoc Su also trained many bronze casting craftsmen.
That is why when he died at the age of 75 at Giao Thuy Pagoda in Nam Dinh in 1141, King Ly Anh Tong (holding power from 1138 to 1175) had a temple erected right on the ground of the residential quarter where Ly Quoc Su had lived. Throughout the country there are many pagodas worshipping both Buddha and Ly Quoc Su, who is considered the Saint of the bronze casting craft, such as Giao Thuy Pagoda in Nam Dinh and Keo Pagoda in Thai Binh.
Ly Quoc Su Pagoda was rehabilitated and redecorated many times with the biggest restoration being made in 1954. The cultural and historical treasure of this temple still remains Ly Quoc Su's statue, Buddha statues and statues of Monk Tu Dao Hanh and his mother and Monk Giac Hai. There is also the precious bell of Tu Chung, cast in the 19th century and a stone stele with inscriptions made in 1855 by Le Dinh Duyen, a famous man. The name of Ly Quoc Su was given to a 244 metre-long street running from Hang Bong to Nha Tho streets.